Posted:
August 18th, 2017 |
Author:
zenofex
|
Filed under:
Uncategorized
|
Comments Off

on All Your Things Are Belong To Us
We're back from Vegas and it's time to reflect. This year in Las Vegas, we were given the opportunity to present our research at both BlackHat USA 2017 and DEFCON 25. At BlackHat, we presented on reverse engineering embedded devices with eMMC flash in our talk, "Hacking Hardware With A $10 SDCard Reader." At DEFCON, we came back and did a remake of one of our most popular presentations ("Hack All The Things") with, "All Your Things Are Belong To Us." The experience was amazing and we're grateful to both conferences for letting us come out and present to you all. This blog post will be a summary of everything we revealed from both conferences and will hopefully guide visitors around all of the new stuff we've posted.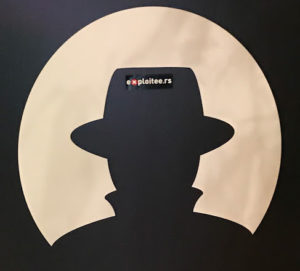 At BlackHat, our presentation was geared toward giving attendees a strategy for attacking devices with eMMC flash storage. In this presentation we showed attendees how to identify eMMC pinouts as well as tips on how to connect to an eMMC flash with a standard SD card reader and as few as 4 wires. If you're interested in checking out the research, you can find the slides on our wiki along with our white-paper on the subject.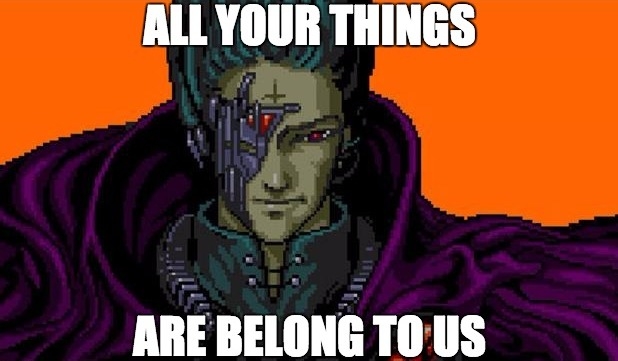 At DEFCON, our "All Your Things Are Belong To Us" presentation showcased exploits for a variety of new embedded devices. Below is a list with the corresponding new wiki pages for the new material we've added.
We dropped a lot of vulnerabilities on the audience at DEFCON, but a few of the highlights include bugs such as the remote root vulnerability we found within the QNAP NAS devices. This vulnerability affects a network transcoding service and allows for command injection as the root user. Then, there are the two vulnerabilities we found within the Western Digital MyCloud series of devices, a series of devices we've released multiple bugs for in the past; these pre-auth bugs both allow for remote code execution. The first one has the primitive of being able to write a file anywhere on disk, allowing us to write a PHP shell to the device for remote code execution as root. The other vulnerability is an authentication bypass which can be paired with any of our previously released (and unfixed) post authentication bugs for remote code execution as root. Beyond just the 3 NAS bugs, we've documented multiple hardware (UART/eMMC) roots, USB roots, and even a pre-auth root vulnerability affecting an SDK used in dozens of products.
You can find the slides for "All Your Things Are Belong To Us" and all of our previous presentations on the front page of our wiki (or HERE)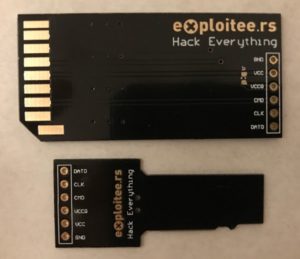 Finally, at DEFCON and BlackHat, attendees of our presentations received some new hardware we recently created. Particularly, they received our new SD & Micro SD Breakout boards which can be used with SD card readers to read 3.3v logic eMMC flash storage devices. These new boards will be available for sale in our online store soon and will be given away with orders from our online store (1 with every order).
If you attended either of our presentations, we'd like to say thank you for coming out and we hope you enjoyed getting to hear our latest round of research. If you didn't, we hope you'll check out our videos or slides. We love getting to spend time with the community and we hope we inspire you to "Hack Everything."
Hacking Hardware With A $10 SDCard Reader:
All Your Things Are Belong To Us:
-Exploitee.rs
---